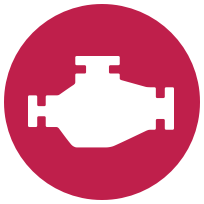 These low-ash packages are formulated to provide superior thermal and oxidative stability, corrosion and wear protection, anti-shudder durability, optimized frictional properties and sludge/deposit prevention performance.
Multipurpose ATF. Many vehicles built before 2006 and still on the road today – such as those manufactured by General Motors, Ford Motor Company and others – require a multipurpose ATF. IPAC 9220 and IPAC 9222 can be blended with Group II stocks to formulate a high-performance, multipurpose power transmission fluid for these vehicles.
Multi-vehicle ATF. Our premium multi-vehicle additives are designed to serve the broadest range of vehicles, while offering superior, well-balanced performance.
---
IPAC 9450, a multipurpose manual transmission fluid additive package, is used to formulate heavy-duty truck synthetic fluid using either Group III or PAO base stocks. These non-EP fluids provide extended drain and severe service performance ideal for heavy-duty manual transmissions. Extensively tested, IPAC 9450 provides excellent sludge and varnish control, frictional performance and yellow metal corrosion protection.
---
Whether you're interested in a traditional zinc-based product like IPAC 9110 or our newer zinc-free IPAC 9130, our tractor hydraulic additives provide excellent protection against gear wear, including wet gears. Proven in field performance and ideal for all major tractor OEMs, these additives also offer excellent brake chatter performance, brake and clutch capacity and oxidative/thermal stability. In addition, we have tractor-specific friction modifiers, such as IPAC 2532.
---
Our automotive and industrial gear packages are designed for inclusion in lubricants for automotive, heavy-duty truck and bus manual transmissions and rear axles. These additives help prevent wear, pitting, spalling and scoring while protecting against oxidation, rust, copper corrosion and foaming. They also promote longer tooth life and smoother gear changes.
The new IPAC 9546, which features additional chemistry, is designed specifically for industrial gear box formulations. Its cascadable performance levels are easily adjusted for desired EP levels and ISO grades. With enhanced corrosion resistance at all treat levels, the result often substantially exceeds what standard performance gear oils might deliver.
If you're looking for a limited slip top treat friction modifier, IPAC 953LS is compatible with GL-5 and J2360 gear lubricants. As a thermally stable additive, it provides excellent friction modification while maintaining seal compatibility under high temperatures. It also provides excellent anti-chatter performance and alleviates noise vibration and harshness (NVH) associated with some limited slip differentials.