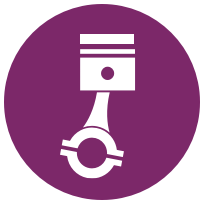 Our passenger car and heavy-duty diesel engine oil additives deliver performance that meets the demands of the newest vehicles and industry requirements, whether related to fuel economy, emissions, wear protection, preignition events or other emerging demands of the automotive and commercial vehicle markets. In addition to preventing wear and deposit buildup, they improve the engine oil's contribution to fuel economy. Our packages also increase oil resistance to oxidation and deterioration at high temperatures.
Of particular note, IPAC 6510 is a new booster package designed for use with our cascadable packages in formulating a wide range of PCMO and HDD engine oils. The IPAC 6510 booster expands coverage of many cascadable packages to the newest profiles on the market. It provides excellent dispersancy and ashless detergency to manage soot, sludge and engine contaminants – resulting in improved engine cleanliness, thermal stability and oxidation protection.
---
For both air- and water-cooled applications, our stroke engine oil additives deliver outstanding performance. These packages are designed with the precise ash levels for these applications, and they increase the oil's resistance to oxidation and deterioration at low, mid and high temperatures. Our two cycle products have OEM and JASO FD approvals.
---
Our natural gas offerings are balanced dispersant-inhibitor multifunctional additive packages formulated to provide superior deposit control and protection against wear, oil oxidation and oil nitration in high-output natural gas engines.
---
We provide additive packages specifically designed for the needs of four-stroke motorcycles. These balanced, multifunctional dispersant-inhibitor additive packages are designed for engine oils that must meet JASO MA or MA-2 (T903: 2006) requirements.
---
As the evolving marine market undergoes significant changes in emission control and engine designs, we provide the latest additive technology to meet your technical challenges.

IPAC 3325, our latest product in this area, is an additive package used to formulate marine diesel cylinder oils (MCL). It provides the robust acid neutralization necessary in MCL applications, along with enhanced thermal and oxidative stability. This additive is specially formulated for a very high rate of acid neutralization, thanks to components that quickly neutralize acids before they can reach the cylinder walls and cause corrosive wear. It is also a BN booster for our trunk piston oil additive, IPAC 3389.

IPAC 3325 has outperformed the best commercial cylinder oils by further reducing wear and piston deposits in extensive field and lab testing. MAN Diesel and Turbo gave IPAC 3325 a No Objection Letter for use in all of its crosshead engine designs when used with specific base oils and following its latest engine lubrication guidelines.